Equipping Pastors, Churches and You!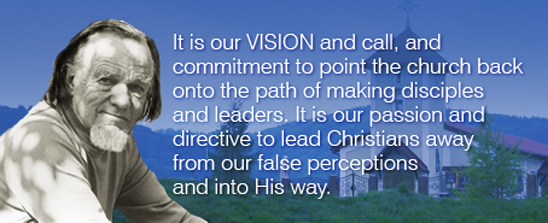 Continuing the Legacy and Influence of Francis Schaeffer with New Research and Findings
Monthly Leadership Article
What can we learn from churches that have failures or are disconnected from their purpose?

This article will explore what God calls, how we are and what we can do with practical and biblical insights to prevent breakdowns and major problems from happening. In Part 2, we will look how to recover if breakdowns do occur.

Part 2 coming soon....

Motives and desires all at a convergence and many without an eye to the Word or an ear to the Spirit!

So…what does this have to do with the problems of the Church?
We are a ministry making a difference for the Kingdom of God, and...
It is a community of committed believers serving the Lord in a center for research and practicum.
Biblical Insights, Research & Results for Leading your Church
Leading the Church

The Names of Jesus
These are the names and titles of our Lord and Savior Jesus Christ, reflecting who He is, such as Christ which means Messiah. By knowing His Names, we get a glimpse of our Lord and Creator, of how to praise Him, how to know Him, how to emulate His character. Thus, this impacts us in all that we do, in our walk with and in Him and on this earth with each other, enabling us to be all we can be for His glory.

(3/7/2008)





Effective Leadership

Being Loyal to Christ and His Bride
We got trouble in our churches--a lack of loyalty. A tough question needs to be asked of ourselves, are we being "harlots" with His Church? Do not refuse God. Teach, preach, be loyal, be fruitful, be faithful, be real for Christ and live it out. By our example, we are used for His glory, giving people known and unknown to us a chance to repent and be saved.

(3/8/2013)





Discipleship

Bible Research

Biblical Eschatology
What is your view of "Eschatology" or "End Times?" This is the study of our Christian beliefs concerning all future and final events, such as Jesus' Second coming and the final judgment. How sure are you that your view is correct?

(3/4/2008)




Thinking and Providing Biblical and Grace-Centered Theological Resources for the Church