Equipping Pastors, Churches and You!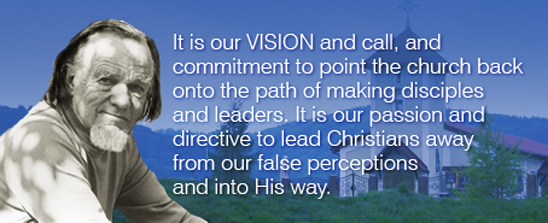 Continuing the Legacy and Influence of Francis Schaeffer with New Research and Findings
Monthly Leadership Article
Why Reforming the Church back to Christ is So Essential

The key to building your church so it will run right and for people to not only come but be aligned with Christ as worshiping, growing members begins with your obedience to His call. What is the purpose of the Church as He has clearly called? It starts with this theme: obey me. Then, as this passage continues to state, I will be your God and you will be my people.

How are you and the leadership of your church responding to this? Are you obeying Him? Are you responding as people that are His?

Gratitude is an attitude of being thankful for what He has done for me! When we fully recognize that our greatest problem has been solved, our indebtedness of sin, we can feel and know gratitude and thus honor God, by leading a life of response to Who and what He has done! Even when we do not see what we have. This is an aspect of worship, expressing to God, and others, how they have benefited our lives by showing them support, appreciation, and benevolence. Because His blood has redeemed us, we are grateful.



We are a ministry making a difference for the Kingdom of God, and...
It is a community of committed believers serving the Lord in a center for research and practicum.
Biblical Insights, Research & Results for Leading your Church
The Holy Spirit
"The role and Person and work of the Holy Spirit"

(3/7/2008)





The Unpardonable Sin
Matthew 12: 22-37, A House Divided Cannot Stand! This is one of the most controversial passages in Matthew.

(2/1/2008)





Being Loyal to Christ and His Bride
We got trouble in our churches--a lack of loyalty. A tough question needs to be asked of ourselves, are we being "harlots" with His Church? Do not refuse God. Teach, preach, be loyal, be fruitful, be faithful, be real for Christ and live it out. By our example, we are used for His glory, giving people known and unknown to us a chance to repent and be saved.

(3/8/2013)




Thinking and Providing Biblical and Grace-Centered Theological Resources for the Church