Equipping Pastors, Churches and You!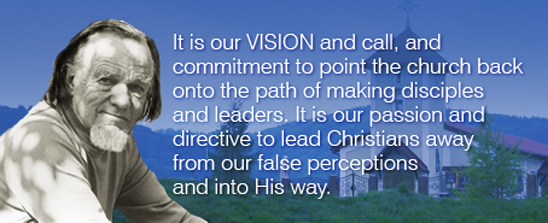 Continuing the Legacy and Influence of Francis Schaeffer with New Research and Findings
Monthly Leadership Article
What can we learn from churches that have failures or are disconnected from their purpose?

This article will explore what God calls, how we are and what we can do with practical and biblical insights to prevent breakdowns and major problems from happening. In Part 2, we will look how to recover if breakdowns do occur.

How to recover your church after a pastor leaves, even in a fall

The statistics for pastors who fall is about 20%. Nearly 50% of pastors starting out will not last beyond five years in ministry for reasons of burnout and frustration. Just 1 out of every 10 pastors will actually retire as a minister in some form.

How to rebuild after a pastor leaves, even in a fall from grace.

To rebuild any church, whether it is from the retirement of a great pastor, the fall of another, a history of spiritual neglect from its leaders, or the slow backslide of apathy or liberalism, we have to be willing to reset. If there is no reset, the congregation will die off.

Motives and desires all at a convergence and many without an eye to the Word or an ear to the Spirit!

We are a ministry making a difference for the Kingdom of God, and...
It is a community of committed believers serving the Lord in a center for research and practicum.
Biblical Insights, Research & Results for Leading your Church
Leading the Church

Our Pattern for Worship
As a community of believers apart of the universal Church, and the bride of Christ, we are to follow the pattern that the Bible lays out. And, it should be the same through all denominations that acknowledge Christ as LORD.

(1/16/2008)





Effective Leadership

Jesus always Invokes a Response
Matthew 2:13-23, Jesus always invokes a response, if not in this life, then, in the life to come, from every person who has ever lived.

(1/30/2008)





Being Loyal to Christ and His Bride
We got trouble in our churches--a lack of loyalty. A tough question needs to be asked of ourselves, are we being "harlots" with His Church? Do not refuse God. Teach, preach, be loyal, be fruitful, be faithful, be real for Christ and live it out. By our example, we are used for His glory, giving people known and unknown to us a chance to repent and be saved.

(3/8/2013)





Discipleship

Bible Research

Will There Be a Rapture?
Yes and no! Yes, Christ is coming back and we will meet Him and it will be spectacular and no words or speculations could ever describe it effectively, especially not in the way most books and TV preachers have sensationalized it. There has been a lot of debate over...

(3/4/2008)




Thinking and Providing Biblical and Grace-Centered Theological Resources for the Church