Equipping Pastors, Churches and You!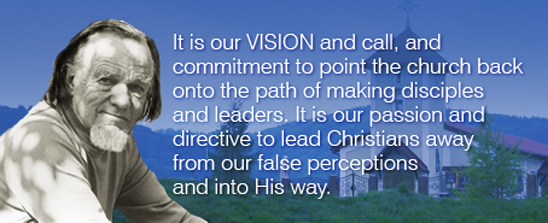 Continuing the Legacy and Influence of Francis Schaeffer with New Research and Findings
Monthly Leadership Article
The Importance of Discipleship and Growth
Growing in Christ is the key to growing a church. This is all about being a good and effective witness of who Christ is and what He has called your church to be and do.
What makes a church grow? The main, significant factor over all else of why churches succeed is this one point: they were centered upon Christ as LORD! They were not centered on a personality, a vision, a denomination, an emerging paradigm, or a set of trends.
is an aspect of worship, expressing to God, and others, how they have benefited our lives by showing them support, appreciation, and benevolence. Because His blood has redeemed us, we are grateful.
We are a ministry making a difference for the Kingdom of God, and...
It is a community of committed believers serving the Lord in a center for research and practicum.
Biblical Insights, Research & Results for Leading your Church
Leading the Church

Spiritual Gifts Session Three
How to Determine your Spiritual Gift(s! This procedure is much more accurate and honest than just using an "inventory." We have a tendency to read into these "tests" our desires, not those of the Lord's leading.

(1/15/2008)





Effective Leadership

Be a Learner
Learning is to learn and grow from the experience the Lord gives us so we are an example for His work!

(1/14/2008)





Being Loyal to Christ and His Bride
We got trouble in our churches--a lack of loyalty. A tough question needs to be asked of ourselves, are we being "harlots" with His Church? Do not refuse God. Teach, preach, be loyal, be fruitful, be faithful, be real for Christ and live it out. By our example, we are used for His glory, giving people known and unknown to us a chance to repent and be saved.

(3/8/2013)





Discipleship
Thinking and Providing Biblical and Grace-Centered Theological Resources for the Church