Equipping Pastors, Churches and You!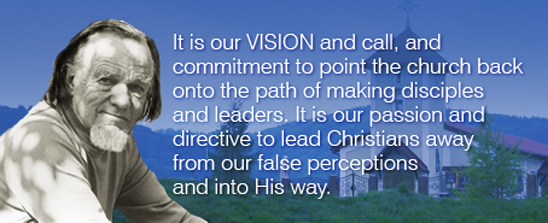 Continuing the Legacy and Influence of Francis Schaeffer with New Research and Findings
Monthly Leadership Article
A Profile of Servant Leadership We usually know what the world calls us to, but do you know what God calls you to? The Bible calls us to a higher level of excellence; one of vision, love, integrity, and functionality. That is what I call "Incarnational Leadership." It simply means that I will lead the way Christ led. I will not lead the way the world wants me to. Incarnational represents the view that we are to leave the ways of the world and its ways of leadership, and turn to the ways of Christ. As He was Incarnational, we can be too...

Are you a good leader? Do you want to be? We have to ask ourselves whether we are being an agent of change or being manipulative and controlling.

If you are in leadership, then be a good leader!
We are a ministry making a difference for the Kingdom of God, and...
It is a community of committed believers serving the Lord in a center for research and practicum.
Biblical Insights, Research & Results for Leading your Church
Leading the Church

Leading the Church in the Midst of Chaos
Motives and desires all at a convergence and many without an eye to the Word or an ear to the Spirit! So…what does this have to do with the problems of the Church?

(2/5/2008)





Effective Leadership

Being Loyal to Christ and His Bride
We got trouble in our churches--a lack of loyalty. A tough question needs to be asked of ourselves, are we being "harlots" with His Church? Do not refuse God. Teach, preach, be loyal, be fruitful, be faithful, be real for Christ and live it out. By our example, we are used for His glory, giving people known and unknown to us a chance to repent and be saved.

(3/8/2013)





Discipleship
Thinking and Providing Biblical and Grace-Centered Theological Resources for the Church