Small Groups Leadership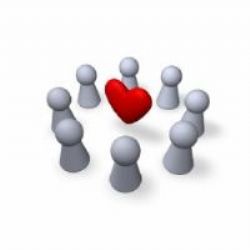 Tools on how to have a Great Small Group Ministry
The Small Group is the prime platform for establishing and instilling the Great Commandment and the Great Commission that Jesus gave us in Matthew 28:18-20 and Mark 12:29-31.
For where two or three come together in my name, there am I with them (Matt. 18:20)
The Small Group is also the vehicle with which to develop and experience authentic relationships and growing discipleship. This builds a Church of authentic community, poured out to His precepts and being in relational intimacy and fullness in Him. This is what we are called to emulate from our Lord. Because people will be learning and growing, they will move from personal agendas and pride to growth and service to our Lord. This produces a supportive environment that has love and care, hospitality, and the Spirit impacting the people. This will then foster the engagement of the community and world for the Gospel.
Small Groups are the way to grow your church in Christ! Your church is called to make Small Groups!
A Christian is a person who has the possibility of innumerable new starts.... We must remember throughout our lives that in God's sight there are no little people and no little places. Only one thing is important: to be consecrated persons in God's place for us, at each moment. -- Francis A. Schaeffer, No Little People
Everything you need to start, develop further, reform, manage and lead an effective small group program for your church!
Use this article for recruiting, to help encourage your people why they should be in small groups.
Think about this point: How do we live the Christian life? How do we apply His precepts? But, most of us live in a culture that fosters isolation, personal pride, loneliness, individualistic mindsets, hedonism, suspicion, distrust, and the fear of being vulnerable. Thus,
So what can you do? Start to think small! For God to do something big in your life and in your church, you need to start thinking small-Small Groups! Small Groups are important and essential. They are the primary and best means to learn and grow in our walk with Christ.
How to have a practical, continuing plan for recruiting volunteers in your ministry.
People are naturally attracted to a program that works and is logical and informative so they can understand it. Thus, you need to create a handout or brochure with your vision and key precepts and how they can get connected in them.
Faithful to my Lord's commands, I still would chose the better part; Serve with careful Martha's hands And loving Mary's heart...
Insights from "Teach Me to Pray" by Dr. William E. Sangster.
How do we live the Christian life? How do we apply His precepts? In First Corinthians 11:1, Paul tells us to follow my example, as I follow the example of Christ.
Small Group Curriculum Model
Small groups are designed to meet the deepest relational and learning needs of the congregation. Small groups can help provide the framework for people to be challenged to worship God with joy, passion, and conviction by learning who they are in Christ so they can develop the trusting faith in Jesus as Savior and LORD...
Small Group Curriculums from our Sister Sites
More at www.discipleshiptools.org/ and www.intothyword.org/
In Acts the Bible tells us we need to be in relationships for our personal and spiritual growth. As Paul and the early Christians taught and received teaching "from house to house," we too must respond in our walk with Christ in each others homes (Acts 5:42; 20:20)!